Inventor of the Year Award Winners
The Inventor of the Year Award honors an outstanding inventor or team of inventors at University of Illinois at Chicago who have made a contribution to the development of intellectual property that significantly impacts their field and society. The award is given based on the criteria of creativity, novelty, and the commercial benefit to society.
The award was presented during the Researcher and Scholar of the Year Award Ceremony, held on February 7, 2018.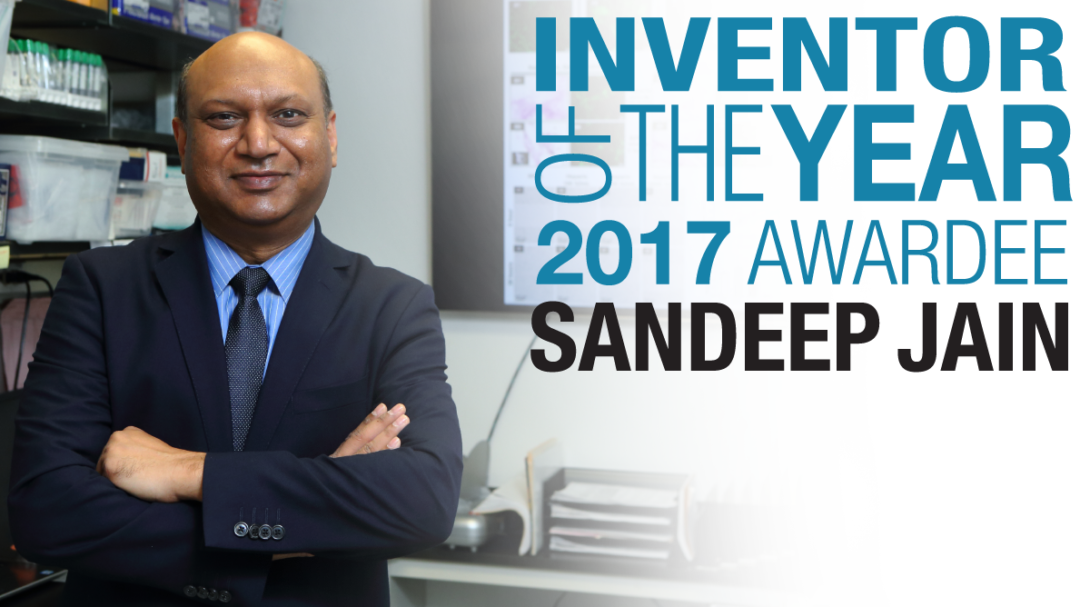 Dr. Jain has worked tirelessly to bring new treatments for ocular diseases through the commercialization process. His innovative technology, brimonidine eyedrops, received Orphan Drug designation by the FDA, and he is currently spearheading the protocol development necessary for this technology to enter Phase II clinical trials. Earlier this year, Dr. Jain received a UIC Proof of Concept award to aid in further development of his DNase I eye drop technology, a treatment for ocular GVHD and for dry eye disease.  Because of his hard work and commitment, this new technology is set to enter Phase I/II clinical trials.  Finally, Dr. Jain has formed a startup company, ADVAITE, and recently submitted a Small Business Technology Transfer application to the NIH to support further development of treatments for ocular diseases.
Past Winners of The Inventor of the Year Award
2016
Brian Kay, Inventor of the Year
Greg Thatcher, Innovator and Inventor of the Year
2014
Constantine Mergaridia, Inventor of the Year, College of engineering
Mark Rasenick, PhD, Innovator of the Year, College of medicine, Department of Physiology and Biophysics
2013
Sudip Mazumder, PhD, Innovator of the Year, College of Engineering, Department of Electrical and Computer Engineering
Alan Feinerman, PhD, Innovator of the Year, College of Engineering, Department of Electrical and Computer Engendering
2012
Mahnaz Shahidi, PhD, Inventor of the year, College of Medicine, Department of Ophthalmology and Visual Sciences
Craig Niederberger, PhD, Innovator of the Year, College of Medicine, Department of Urology
2011
Alan Feinerman, PhD, College of Engineering, Department of Electrical and Computer Engineering
2010
David W. Carley, PhD, College of Nursing, Department of Biobehavioral Health Sciences, College of Medicine, Department of Pulmonary, critical care, sleep and allergy, Department of Pharmacology
Miodrag Radulovacki, MD, PhD, College of Medicine, Department of Pulmonary, Critical Care, Sleep and Allergy, Department of Pharmacology
2009
Hayat Onyuksel, PhD, College of Pharmacy, Department of Biopharmaceutical Sciences
2002
Fady T. Charbel, MD, College of Medicine, Department of Neurosurgery
2001
Faydor L. Litvin, PhD, College of Engineering, Department of Mechanical and Industrial Engineering
2000
Igor B. Roninson, PhD, College of Medicine, Department of Molecular Genetics
Charles K. Rhodes, PhD, College of Liberal Arts and Sciences, Department of Physics
John M. Pezzuto, PhD, College of Pharmacy, Department of Medicinal Chemistry and Pharmacognosy
Norman R. Farnsworth, PhD, College of Pharmacy, Department of Medicinal Chemistry and Pharmacognosy
Thomas A. DeFanti, PhD, College of Engineering, Department of Electrical and Computer Engineering
Daniel J. Sandin, MS, College of Architecture & the Arts, School of Arts and Design
Ananda M. Chakrabarty, PhD, College of Medicine, Department of Microbiology and Immunology
David E. Boyce, PhD, College of Engineering, Department of Civil and Materials Engineering
1991
Donald A. Chambers, PhD, College of Medicine,, Department of Physiology and Biophysics
1986
Abe Widra, PhD, College of Medicine, Department of Microbiology and Immunology
1985
John C. M Tsibris, PhD, College of Medicine, Department of Obstetrics and Gynecology
William N. Spellacy, PhD, College of Medicine, Department of Obstetrics and Gynecology