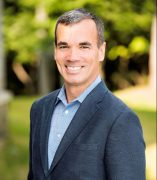 Mark Alilovich
Senior Technology Manager
Contact
Building & Room:
College of Medicine (West) 440
Office Phone:
Email:
About
Mark has over 20 years of industry experience that spans wireless telecommunications with AT&T, Motorola, Nokia, Broadcom and aerospace industry experience with Boeing and General Electric. He started out his career in telecommunications as an engineer and engineering manager. He transitioned into competitive intelligence reverse engineering products and performing opportunity and threat analysis for C-suite executives. He progressed into intellectual property management and obtained another master's degree to license, protect, and strategize IP for aerospace companies. He developed $400M dollar licensing revenue pipelines and IP plans that protected over $2B in technologies ranging from unmanned underwater submarines, cybersecurity and space planes.
At UIC, he manages the IP portfolio for the College of Engineering.
His education includes a Bachelor of Science in Electrical Engineering from Southern Illinois University, a Master of Science degree in Electrical Engineering from the Illinois Institute of Technology, a master's degree in Intellectual Property Management from the Chicago Kent College of Law and training from the Wharton School of Business. Mark enjoys volunteering, mentoring, sailing, golfing and playing ice hockey.