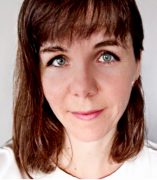 Svetlana Kurilova, Ph.D.
Associate Technology Manager
Contact
Building & Room:
College of Medicine (West) 444
Office Phone:
Email:
About
Svetlana Kurilova is a technology manager at the Office of Technology Management, UIC where she manages diverse portfolio of life science technologies focusing on license negotiations, execution of CDAs, research agreements and license amendment, as well as performing targeted marketing outreach at the major conferences.
Svetlana obtained her bachelor degree in analytical chemistry from the Moscow State University in 2008, got PhD in chemical biology and lipid sensors from UIC in 2015 and completed a postdoctoral training in immunology at SDSU.
Outside of her role at OTM, Svetlana is a member of Women in Bio, the Association of University Technology Managers (AUTM), and postdoctoral communities (NPA, UIC-PDA and Cheeky Scientist Association). Becoming a certified life coach during the pandemic, she has been serving and supporting young graduates in their career transitions and professional growth through training, mentorship and coaching.