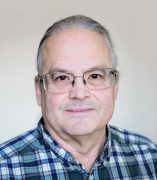 Mark Krivchenia
Sr Technology Manager
Contact
Building & Room:
College of Medicine (West) 462A
Office Phone:
Email:
About
Mark Krivchenia has been a University technology transfer professional for nine years. For five years he worked at the Purdue Research Foundation and managed the IP portfolio for the College of Agriculture. During his tenure at Purdue he handled numerous technologies in the alternative energy, agricultural biotechnology and foods/nutrition areas. He has also worked with numerous faculty members in assisting them to start up companies with their technologies. For the past three years, he has worked at the University of Illinois at Chicago (UIC). At UIC, he manages the majority of the IP portfolio for the College of Engineering and the College of Liberal Arts and Science.
Prior to doing University technology transfer, Mr. Krivchenia spent 16 years in research and development for General Mills, Inc, becoming an R&D director in the company's Food Service Division. He has extensive experience in product development and product commercialization in his many roles with General Mills.
Mark has a B.S. in Food Science and Nutrition from the University of Minnesota, and an M.S. in Food Chemistry from the University of Wisconsin—Madison. He is an member of the Association of University Technology Managers and the Licensing Executives Society (LES).