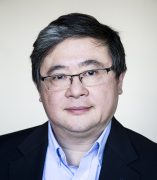 Nelson Grihalde, Ph.D.
Sr Technology Transfer Coordinator
Contact
Building & Room:
College of Medicine (West) 462C
Office Phone:
Email:
About
Nelson Grihalde became the Technology Transfer Coordinator at the UIC OTM in July 2010. His responsibilities include supporting the OTM in IP management, evaluation, marketing, and licensing of technologies at UIC. Prior to joining UIC he was an Associate Project Manager for UChicagoTech, University of Chicago's Office of Technology and Intellectual Property.
Nelson has a wealth of industrial experience, which he now uses to support drug discovery, company startup and medical translation initiatives within the university setting. Before joining UChicagoTech, Nelson was an Associate Research Investigator at Abbott Laboratories' Global Pharmaceutical Research and Development group with experience in multiple therapeutic areas, including Diabetes and Metabolic Diseases, Thrombolytics, and Hematopoeitic factors. He has a solid understanding of the drug discovery process including assay development, HTS, and small molecule Hit-to-Lead strategies leading to clinical candidate identification. Nelson has served as a project manager for alliance collaborations with biopharmaceutical companies focused on antibody engineering, therapeutic biologics and natural product screening.
Nelson received his B.A. from the College of Arts and Sciences, Department of Biochemistry, Cell and Molecular Biology of Northwestern University and his Ph.D. from the Department of Biology of the Illinois Institute of Technology. He completed an industrial postdoctoral fellowship within the Abbott Diagnostics Division developing phage display libraries, before joining the company's Thrombolytics Venture Group in support of Abbokinase®. He is a lead inventor on several Abbott patents and has authored scientific publications, review articles and delivered conference presentations. Nelson is an active member of the Association of University Technology Managers (AUTM) and the Licensing Executives Society (LES).