UIC Proof of Concept (POC)
The Proof of Concept Awards Program was launched by the UIC Office of Technology Management (OTM) in early 2012 to advance early stage research that taps into the talent and innovations at UIC in order to benefit the broader community. The UIC Innovation Fund was established in 2020 by the UIC Office of the Vice Chancellor of Innovation (OVCI). The UIC POC Awards Program now falls under the UIC Innovation Fund umbrella and is managed in partnership between OVCI and OTM to bridge a gap between basic research and commercialization.
The UIC POC funds will be available to support proof of concept innovations emanating from UIC research. Selected proposals will receive initial funding of up to $50,000 to develop research projects with commercial potential. Upon successful completion of milestones from the initial funding, projects may be eligible to receive up to an additional $150,000. Final award amount will be determined by the scope of work and contingent upon successful completion of milestones developed according to input from selection committee.
The aim of the UIC Proof of Concept (POC) Awards Program is to accelerate the commercialization of technologies being developed at UIC by helping to bridge the funding gap that often exists between translational research and commercialization. The outcome of a UIC POC award should demonstrate commercial viability and position the technology for industry or investor engagement.
Applications must be received no later than November 2, 2020 at 5:00pm CST.  Instructions on submitting a UIC POC Application can be found website of the Office of the Vice Chancellor of innovation. All Applications must be submitted through the application submission form.  Finalists will be selected by December 1st and will have an opportunity to pitch their proposal to an external review committee of industry and investment experts.
Eligibility Requirements
To be eligible for the UIC Proof-of-Concept Funding, a proposal must be based on a technology disclosed with the Office of Technology Management (OTM).  It is highly recommended that if you do not have a technology disclosure related to the project on file with OTM that you reach out to a technology manager at least one week prior to the deadline.  Eligible applicants are full time faculty, staff, and researchers with dedicated research space and resources. Forms and instructions on disclosing a technology can be found here: OTM Submit your idea.   Any questions, please contact a technology manager.
What is the UIC Innovation Fund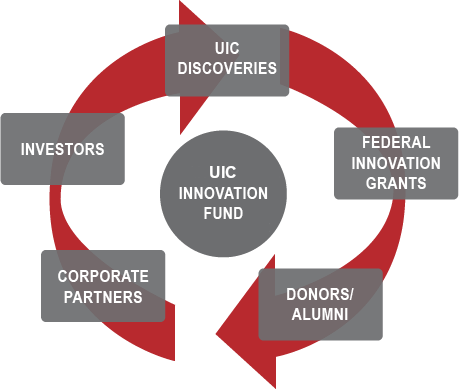 The UIC Innovation Fund has been established at UIC in partnership between the Office of the Vice Chancellor of Innovation and the Office of Technology Management with a goal to position UIC as a leader in technology acceleration. The Innovation Fund links emerging technologies, federally funded innovation grants, alumni, donors, corporations, investors and the greater community to improve commercialization potential.  To learn more about the UIC Innovation Fund, and to stay updated on new developments and announcements please check out the Vice Chancellor of Innovations' website: https://innovation.uic.edu/initiatives/.
Important Dates for FY21 UIC POC Awards Program
October 1, 2020 – Application Opens
November 2, 2020 – Applications Due (5pm CST)
Week of December 1, 2020- UIC POC Finalists Announced
Week of February 1, 2021 – Final Pitch Day
Week of February 8, 2021 – UIC POC Winners Announced