How To Start Your Business: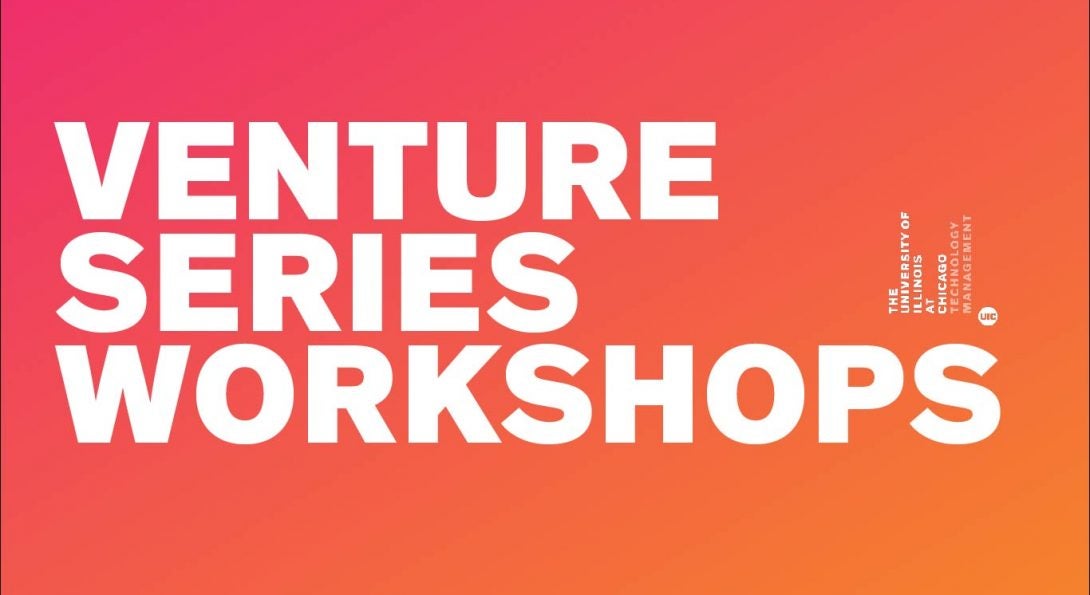 Venture Workshops
Are you looking for expert advice on starting and growing a small business? The Venture Series offers an opportunity to learn how to build a solid foundation to grow your dream business. The series, open to the university community and the public, consists of 4 - 2 hour workshops. Each workshop will provide you with tools and resources to take your business to the next level.
Because there are 4 workshops, please register for each workshop you intend to attend. If you have any questions about the workshops, please contact Steve Bob at sbob@uic.edu | (312) 413-3278.
How To Start Your Business: Venture Workshops
Venture Start - June 5, 2019 | 11AM - 1PM

What resources are available to help you develop your business? How do you access those resources? During this session we will guide you through some of the many local resources to help you start your business. We will discuss and help you compile a list of next steps to move your plan to the next level.

This series of workshops is presented in partnership with UIC's Office of Technology Management and will take place at:

HTI, 2242 W Harrison St., Suite 201, Chicago, Illinois, 60612

Venture Viability - June 12, 2019 | 11AM - 1PM

Is your idea a solid business opportunity? Does your idea have staying
power? As we discuss customers, product, competition, and profit; you will learn about tools for determining the viability of your new venture.

This series of workshops is presented in partnership with UIC's Office of Technology Management and will take place at:

HTI, 2242 W Harrison St., Suite 201, Chicago, Illinois, 60612

Venture Finance - June 19, 2019 | 11AM - 1PM

Where do you find funding to get your business started? How do you get the money you need? This in depth look at many ways to fund your business gives insight into how to access these sources and develop a plan for where to go next. Learn from our experts about many funding options available for startups.

This series of workshops is presented in partnership with UIC's Office of Technology Management and will take place at:

HTI, 2242 W Harrison St., Suite 201, Chicago, Illinois, 60612

Venture Launch - June 26, 2019 | 11AM - 1PM

Is your idea a solid business opportunity? Does your idea have staying power? As we discuss customers, product, competition, and profit; you will learn about tools for determining the viability of your new venture.

This series of workshops is presented in partnership with UIC's Office of Technology Management and will take place at:

HTI, 2242 W Harrison St., Suite 201, Chicago, Illinois, 60612