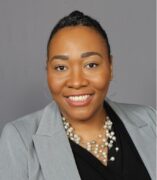 Veronica Haywood-Ragland
Associate Technology Manager
Contact
Building & Room:
College of Medicine (West) 446A
Office Phone:
Email:
About
Veronica Haywood-Ragland joined the Office of Technology Management at UIC in May 2019. She works closely with investigators from the College of Applied Health Sciences and several departments in the College of Medicine and the College of Nursing. Veronica is responsible for managing IP, evaluating, marketing, and licensing UIC intellectual property assets.
Veronica has over 10 years of experience as a clinical Physical Therapist in acute and critical care settings with specialty training in Wound Care, which she now uses to support medical translation initiatives within the university setting. Prior to joining OTM, Veronica completed her Ph.D. in Oral Sciences from the University of Illinois at Chicago in 2019 within the Center for Tissue Regeneration and Wound Healing. During her Ph.D. at UIC, Veronica's research focused on the molecular and glyco-biological changes associated with diabetic wound healing.
In addition to her Ph.D from the University of Illinois at Chicago, Veronica also holds a Doctor of Physical Therapy degree and a Bachelor of Science degree from Marquette University. She is a current member of the Association of University Technology Managers (AUTM), Women in Bio, and the Wound Healing Society.