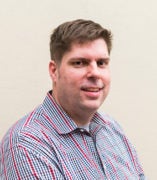 Jonathan Gortat
Assistant Director
Contact
Building & Room:
College of Medicine (West) 433
Office Phone:
Email:
About
Jonathan Gortat joined the University of Illinois-Chicago Office of Technology Management as a senior technology manager in October 2015. He is responsible for managing a portfolio of technologies emanating from the departments of chemical engineering, chemistry, bio-engineering, psychology, magnetic resonance research, neurosurgery, psychiatry, radiology, and urology including technology and market assessment, valuation, negotiation and licensing of UIC intellectual property assets.
Prior to joining UIC, he has more than 7 years' experience working in technology transfer at Purdue Research Foundation and managing director for the Emerging Innovations Fund, a pre-seed investment fund for Purdue Research Foundation. Prior to PRF, he has more than 5 years industrial pharmacy research and project management experience. He has extensive experience in pharmaceutical and chemical unit operations and analytical methods associated with the pharmaceutical industry.
He holds an MBA from the Krannert Graduate School of Management at Purdue University and a baccalaureate of science degree in Chemical Engineering from Purdue University. Jonathan is a Certified Licensing Professional (CLP) and is a current member of the Association of University Technology Managers (AUTM).